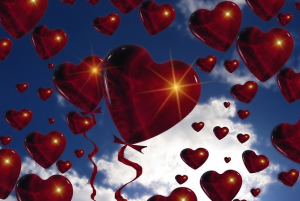 We can't get along all the time. Life gets in the way. Emotions run deep and sleep deprivation mixed with long hours can be a cocktail for disaster. Fighting an illness drains your body and tests your emotional agility.  Moods shift like the moon and you just have to ride the wave. With any luck you'll find your way back. Meaningful apologies hold weight but hope comes in the smallest of gestures.
Like little kisses on the cheek when you're rushing out the door. Little kisses that carry big promises of adoration and love. 
Honestly, I never thought I would know a love like this. I just couldn't picture it and didn't think it was in the cards for me. Quite frankly I didn't even know this version existed at all.  But it does exist and while sometimes it doesn't make sense, the truth is, love is a gift of epic proportions.  It should be treated with respect and many very mushy sweet nothings whispered into each others ears.
Love is an anomaly. It can be unpredictable and it can be volatile. Sometimes it's sweet and charming. While other times it's mean and defensive. It can make us feel on top of the world or it can trick us into feeling completely insecure. Love is supposed to uplift us. It brings two people together in unimaginable ways. We don't always pick love. Love picks us. It can take us by surprise and leave us breathless.
Love cures writers block. It's a catch all. It's a free fall. It's a never wanting these feelings to end. It's looking into someone's eyes and knowing you would do anything in the world to make sure they're always happy. Remembering things that are said and sharing deepest emotions and the purest of sexual fantasies.
Believing in soul mates and never wanting to be with anyone else ever again. Love is sexy and daring and full of mischief. Love is what happens under the table where no one can see you. Even when you're angry or hurt or confused or feel left out, if you think about it hard enough you'll know. If you think with your heart you will remember the loving moments, the loving words and gestures. The loving glances that show you who you really are. You will know in your heart of hearts that even when we're not ourselves we will always find our way back.
Love is vulnerable and scary but when two people grab hold of each other unequivocally and jump; the net appears. Love is in the laughter and the wanting to make that person fall harder and further in love with you. Love is in the teasing and the stolen looks. It's taking chances. It's meet me on a rail train. Drink my Shirley Temple so we can have the ice.
Sometimes the memories invoke music and if you close your eyes you'll see the love of your life looking back at you with all the love you feel in your heart that you never thought possible.
When it's true love, love is all around us. Love will withstand the obstacles. Love will sing to us, like that time in the kitchen when we danced and laughed and sang this old song by John Paul Young while we waited for our morning coffee to brew.
Love is in the air
Everywhere I look around
Love is in the air
Every sight and every sound
And I don't know if I'm being foolish
Don't know if I'm being wise
But it's something that I must believe in
And it's there when I look in your eyes
Love is in the air
In the whisper of the trees
Love is in the air
In the thunder of the sea
And I don't know if I'm just dreaming
Don't know if I feel sane
But it's something that I must believe in
And it's there when you call out my name
(Chorus)
Love is in the air
Love is in the air
Oh oh oh – Oh oh oh
Love is in the air
Everywhere I look around
Love is in the air
Every sight and every sound
Love looks a lot like you.
photo courtesy of tinybuddha.com